It's an Honor to Introduce Constance Jones. A Two-Time Emmy® Nominated Journalist Who Currently Anchors the Station's Weekday Morning Newscasts, NBC 6 News Today at 5am and 6am
Q: While in high school, did you have any idea you wanted to go into broadcasting?
CJ: During my high school years, I was inspired by the fictitious TV News Journalist, "Murphy Brown." She captivated my imagination! She was funny, smart, and very determined. Although Murphy Brown was a TV Show, the episode gave me a glimpse into the life of a News Journalist. 
Q: How did your career start as a news anchor?
CJ: I started my professional career as a producer/reporter at KETK-TV News in Tyler, the Rose capital in the heart of Texas. I began my workday at midnight, producing the entire morning show. The evolution from producer to anchor was a quick one. I had to embrace the challenges that came with reporting, producing, and anchoring. 
Q: Can you share with our audience one of your most memorable events you've covered?
CJ: During my time as the main evening anchor at WRIC-TV in Richmond, Virginia, one of the most memorable events was during the peak of the George Floyd protest. This area is known for its Confederate statues, which were erected during the Jim Crow Era and were perceived as a tribute to the confederacy. These challenging news events demand around the clock coverage. 
Q: What is a typical day like for you? 
CJ: 1:30/2 am: Wake up - The day starts very early to allow time for show preparation. That includes hair and makeup. 
3:15 am: First News Meeting - This meeting includes the newsroom staff, reporters, and producers. We discuss the day's news and coordinate coverage plans. 
3:30 am: Write & Edit- Before we start the show, the News Anchors also help to form the shows. We spend roughly an hour reviewing and re-writing scripts.  
4:50 am: Arrive on set 
5:00 am Morning show begins - The morning news broadcast goes live, and I anchor the show alongside my co-hosts. This time includes a mix of breaking news, live reports, weather updates, traffic reports, and other segments. We stay on tv, with news "cut ins" through the Today Show.
9:00 am: NBC 6 News Now/ Peacock News Show Today Show - In addition to the NBC 6 morning show, I solo anchor a news show for Peacock TV. 
Following the morning shows, I work on creating content production for the later news shows. This involves filming stories on location and conducting interviews.
12:30-1:00 pm: End of workday -  
Q: Have you ever had that the one embarrassing moment on TV you can share with us? 
CJ: One time, while I was anchoring the newscast, I found myself in an embarrassing situation. Little did I know that a small, pesky booger had decided to take up residence in my nose.
It wasn't until later, during a break, that I caught a glimpse of myself. I was mortified at first, but I can laugh it off today. We are all human. 
Q: Do you have any advice you can share for those women who may want to pursue a career in Broadcasting?
CJ: Reading and continuous learning are vital for anyone pursuing a career in broadcasting! As a journalist, you cover a wide range of topics, from politics and economics to arts and culture. By reading books, (both fiction and non-fiction) you can expand your knowledge and develop new expertise.
If you don't have the time to read, consider audible books. The Libby app allows users to borrow and enjoy e-books and audiobooks from their local library's collection.

Q: What's the most interesting thing about you that we wouldn't learn from your resume alone? 
CJ: I was two stiches away from breaking the world record as the fastest crocheter in the world. Despite my efforts and months of intense training, I came close – but fell short.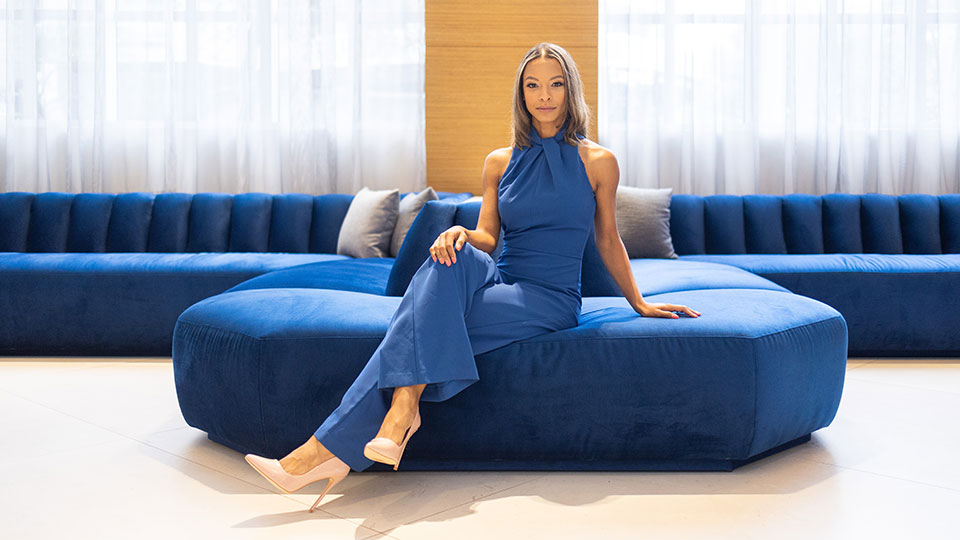 Q: Who was the biggest influence in your life growing up?
CJ: My parents have been the most influential figures in shaping the person I am today. This year, they will celebrate 50 years of marriage. With my father being African American and my mother of German descent, their relationship was met with several obstacles. Despite the issues they faced, their love and determination have served as a source of inspiration for me.
Ten Things About Constance Jones

1. What's your favorite thing to do in your free time? 
Crocheting is an absolute love of mine, a skill that I learned as a young girl. It's more than a hobby for me, it has become a therapeutic practice. With each stitch, I enter a state of calm. I recommend people picking up the hobby.
2. What was the last book you really got into? 
I absolutely loved "The Personal Librarian" by Heather Terrell and Victoria Christopher Murray. It is based on the inspiring true story of a woman—who was the personal librarian to J.P Morgan chase. She became one of the most influential leaders of her time. 
3. What's your favorite international food?
I am proud to embrace my German heritage, as I am half German. The influence of Germany runs deep within me, as my mother comes from the country, and I was born in the city of Stuttgart. 
So, for me, I absolutely love all German Food. Leberkäse (Fleischkäse)- is my favorite comfort snack! 
4. What's your favorite quote or saying?
It doesn't matter where you start, It matters where you finish
5. Tell me about the best vacation you've ever taken. 
One of the most remarkable vacations I have ever taken was a trip to Alaska. I took the vacation during the late winter season. The vast landscapes were simply indescribable. From the snow-covered mountain ranges to the frozen lakes, Alaska was magnificent. 
6. What's your big passion?
Sharing untold stories within our community brings me so much joy. It is my true passion as a journalist and storyteller. 
7. Have you ever met anyone famous? Who? 
J-Lo- She was absolutely beautiful and kind. She served as the Honorary Chair for "March for Babies" in Miami!
8. What were you like in high school? 
I was always outgoing and was voted "Most Likely to Succeed" & "Homecoming Queen"
9. Would you rather cook or order in? 
Always Cook
10. Cake or pie? 
Pie (apple pie)