Affectionately Known as The Canvassing Queen, Meet Beth Azor the Founder & Owner of Azor Advisory Services.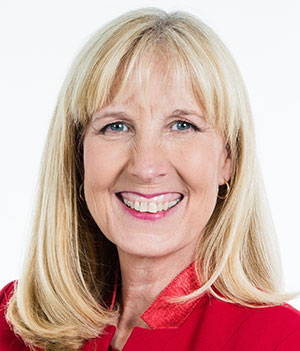 Azor Adviosry Services is a leading commercial real estate advisory and investment firm based in Southeast Florida.
Beth is a graduate of FSU, and a former Foundation Trustee and past Chairwoman of the Board, and Founder of the FSU Real Estate Foundation. She is also the immediate past President of the Board of Directors of HOPE Outreach Center in Davie, Florida and co-founder of 100+ Women Who Care in South Florida. 

Q: So, before we jump into specific questions, why don't you give our audience some details about you and your story.
BA: Born in Wisconsin to entrepreneurs, we moved to Fla when I was in high school and my parents both got into residential real estate. I got my re license when I was 18 but wanted to get into special events. I wanted to run the Olympics one day. I got my dream job as the Special Events Coord at the American Heart Association in Miami with a starting salary of $11K. So, to make ends meet I worked real estate on the weekends. After 2 years I was able to increase my Heart salary to $23K, but it still wasn't enough, and I was tired of working 7 days per week. I jumped to real estate as a full time gig. I started with Terranova in their leasing training program in 1986 and was there 18 years, eventually becoming the president the last 6 years I was there.
Q: Tell us, how long have you been known as the "Canvassing Queen."
BA: Probably for over 20 years. I believe in it and I have found success with canvassing. 
Q: Your also an Executive Coach … what is your coaching philosophy for success?
BA: Work ethic is the one thing you can control so I am a big believer of that, also networking and giving value in every situation.
Q: Where do you see Azor Advisory Services five years from now?
BA: Owning 10 shopping centers and helping all retail leasing agents in the US become more successful with my coaching/training programs.
Q: Your Co-Founder of 100+ Women Who Care, for those in our audience nor familiar with this organization, can you tell us about it and how it started?
BA: My dear friend Melody Spano was looking for a way to give back and she heard of 100+ Women Who Care. A group of women get together quarterly to hear pitches from local nonprofits about their needs and the service they provide to the community. The 100 women gather then vote on the best out of 3, and that charity gets $10,000 (100 women x $100) It happens 4 x per year, for one hour, and each woman commits to $100. It's a great, easy way to give back and learn about phenomenal local charities.  
Q: What is your biggest accomplishment so far? 
BA: Raising my two sons as a single mother and owning 6 shopping centers as a female.
Q: What is one word of advice you can offer to young women who want to reach your level of success?
BA: Work harder than anyone else!
Q: What's one lesson you've learned in your career that you can share with our audience?
BA: Listen to your instincts and don't ask anyone for confirmation -they will talk you out of a good idea-due to their fear and insecurities.
Q: Which woman inspires you and why? 
BA: My mom-she was an unbelievably hard worker and very creative! I also love Sarah Blakely -founder of Spanx
Q: If you could change one thing in the world, what would it be?
BA: No child goes hungry.
Five Things About Beth Azor

1. If you could talk to one famous person past or present, who would it be and why?
Ronald Reagan-he brought the country together at a crazy time and had an endearing quality, that got differing sides to collaborate for the greater good 
2. What's the most daring thing you've ever done?
Jumped off a 30' telephone pole towards a trapeze.
3. What is your favorite family holiday tradition?
I do a scavenger hunt for my sons every Easter morning- even though they are now 19 and 17 they still ask for it-it's fun and silly, I have to keep upping my clue game each year as they have gotten much smarter- we also do goals after Thanksgiving dinner each year-they haven't always looked forward to that tradition!
4. What inspires you? 
People who push the limits, who don't see the obstacles. They just GO FOR IT!
5. Favorite dessert?
My mom's secret chocolate cake recipe.