An Exclusive Interview with Miami Women's Basketball Head Coach DeUnna Hendrix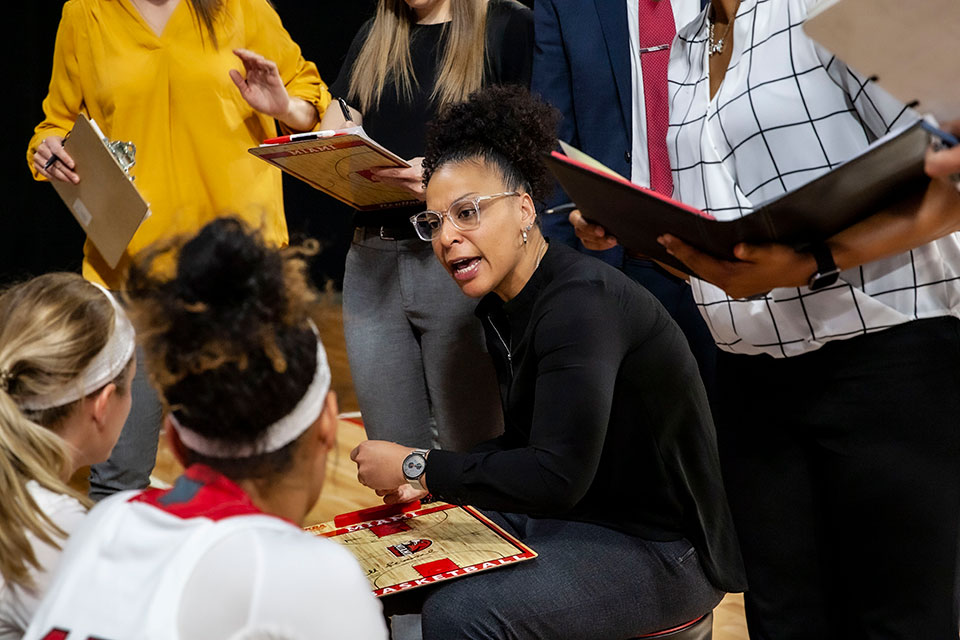 DeUnna is no stranger to the courts. She was head coach at High Point University, for seven seasons before joining Miami. She ranks third among Panther women's basketball coaches with 125 wins and amassed an 89-43 mark in the Big South.  
Q: How old were you when you started to play basketball? 
DH: I grew up in a basketball home so I started early. Pretty much came out of the womb dribbling. ☺
Q: I saw you were a three-sport athlete at Kokomo High School, which sports in addition to basketball did you play?
DH: I played volleyball, as well as threw shot and discus
Q: After high school, where did you feel your career path would take you?  
DH: I had aspirations of playing professionally coming out of high school. However, collegiate coaching was something I've always known I wanted to do once I was done playing. 
Q: How did you get into coaching?
DH: I was offered a graduate assistant spot at Jacksonville University by a coach that had recruited me out of high school. I had a high school teammate play for this same coach at the college level. My teammate ultimately referred me when the position opened. 
Q: What is your coaching philosophy for success?
DH: Leaders cultivate leaders. Success, to me, looks like the empowerment of all of those around me. Everyone should feel valued and energized to work toward the same vision. I believe a team can only do that within a safe environment that believes in the investment of one another.  
Q: You were head coach at High Point University, for seven seasons, how did you come to the decision to leave? 
DH: I'm originally from Indiana so all of my family is still there. Miami (OH) brings me closer to home. One other major reason was the level of competitiveness. The MAC conference is one of the best conferences in the country. I felt ready for a new challenge. 
Q: What's one lesson you've learned in your career that you can share with our audience?
DH: Trust others. No great job can be done alone… no matter how great of an individual you are.
Q: Can you tell our audience one of your most memorable moments in your career?
DH: I was hired as the Head Coach of High Point University at the age of 26, which is rare now days in women's basketball. I was asked to interview so I went thru the interview process to "get the experience", believing I wasn't fully qualified for the job. I was fortunate to have someone see something in me that I hadn't even seen in myself.  
Q: Which woman inspires you and why? 
DH: My mother. She is a single parent of two who worked as a firefighter in Indiana. In a state like Indiana, this is no easy task. Most times she worked two, sometimes 3 jobs, to make ends meet. I work to have the perseverance, grit, and poise that she has.
Q: Can you name your favorite role models for success?
DH: I have a wide range of role models when I think of success. 
Eckhart Tolle, Brene Brown, Phil Jackson, Will Smith, Rhapsody… I'll stop there. 
All of them are unique in how they shine their light on the world unapologetically. They are all abstract in their thinking, as well as inclusive with their followings.  
Q: What are some of the challenges you feel women face today?
DH: I think the biggest is simply not being heard. Every day I have to strategize how to get points across to the people making decisions. What does the delivery sound like? What battle is important enough to fight because I can't fight them all? When is the "right" time?
Five Things About Coach DeUnna Hendrix

1. If you could talk to one famous person past or present, who would it be and why?
Gandhi. Especially during these times. He inspired civil rights movements and fights for freedom across the world. I'd also like to talk about spirituality and the centeredness it seemingly provided him.
2. What were you like as a student? 
As a young student… difficult. I certainly did not take school as seriously as I should have. 
I feel I am much more of a student in my adult life. Continually wanting to learn.
3. If you were a superhero, what would your special powers be?
Invisibility. I am an outgoing introvert so there are times when I just want to go into hiding! 
4. What app can't you live without?
Podcasts. I literally listen to podcasts all day. 
5. If you could trade places with any other person for a week, famous or not, living or past, real or fictional, with whom would it be?
Oprah. She has access to the most influential leaders of our time. I would love to sit with people of impact and ask questions, seek knowledge, and form rapport.