Her Vision is to Create The Best Tasting Drinks That Are Healthy, Natural & Organic. Read Our Exclusive Interview With Miami Entrepreneur, Erica Chemolli, Founder of Kombucha Queen.
Q: For those in our audience who may not be familiar with Kombucha, can you explain what it is and what benefits it provides?
EC: Kombucha is a fermented beverage made from green tea, sugar, yeast, and bacteria. It's rich in probiotics, antioxidants, and other beneficial compounds that can support gut health. Kombucha Queen has low levels of sugar and carbs, making it suitable for those following a ketogenic diet. Regular consumption of kombucha can help improve gut health, which in turn can lead to other health benefits such as healthy skin, hair, and overall well-being. Kombucha has been called for years "the elixir of youth "or " tea of immortality."
Q: How did you get involved with Kombucha?
EC: I started producing kombucha as a way to naturally heal Vitiligo, a skin disorder that I had developed after losing my mother in a car accident at a young age. My interest in natural remedies led me to read extensively on vitamins and publish a book in Italian "Keep Calm: E' solo vitiligine" in 2015. 
During my research, I discovered the benefits of kombucha, a fermented tea rich in vitamins and probiotics. However, most commercially available kombucha has high levels of sugar and carbs, which is not suitable for my fitness goals. Therefore, I began making my own low-sugar, ketogenic version to promote health and wellness. 

Q: Who would best benefit from using Kombucha?
EC: Kombucha can benefit people who are looking to incorporate a probiotic-rich drink into their diet. It is also commonly consumed by people who are interested in incorporating more fermented foods into their diet for potential health benefits. However, it is important to note that kombucha contains small amounts of alcohol and caffeine, so it may not be suitable for everyone like pregnant women, and those who should avoid alcohol or caffeine. Kombucha Queen being keto-friendly is perfect for fitness enthusiasts! Healthy gut = Healthy hair - Healthy skin - Healthy you!
Q: You are originally from a small Italian Village. Can you share your journey that brought you to Miami?
EC: I dreamed and had ambition to achieve something different in my life, so I decided to take the plunge and move to Miami. I used to manage a restaurant in Italy while I was studying psychology. During that restaurant experience I met people from all over the world. One of them was an American couple. I kept their business card with me as I always remembered they gave me my first tip … in Italy, it's not common to tip servers. After six years, I ended my experience at the restaurant and decided to contact them … they gave me the opportunity to come to Miami. It was scary in the beginning, but extremely exciting. 
I was born in a little village of eight hundred people! I like challenges and I want them to grow. I've always felt like I was born with a fire inside of me. I like to think big and dream big. Like Walt Disney said, "If you can dream it, you can do it." I've started working for their company which I am now part of that sells food and beverage to US military bases. Throughout the year, I worked to start my new kombucha business. 

Q: Where do you see your business five years from now?
EC: I would love to think of Kombucha Queen as a worldwide brand. Kombucha Queen has recently started to produce Kombucha in Europe as well. I would love to see Kombucha Queen in major grocery stores in the Unites States such as Whole Foods Market, Publix, Fresh Market etc. I would love to be more popular on Amazon (my recently opened store) and generate more sales. I'm proud to say that Kombucha Queen is 100% woman owned.
My goal is to grow with the brand keeping the same high quality. This is my mission, spreading health through Kombucha Queen. I would love to start a nonprofit and have Kombucha Queen sales benefit it. As mentioned, I started to produce Kombucha THANKS to VITILIGO (that's why the panda queen logo). Therefore, I would love to support vitiligo research for new treatments. One of my hobbies is painting - I would like to start to paint some Panda Art since I live in Miami. It would be a dream come true to exhibit my art at the Miami Art Basel!

Q: What is one word of advice you can offer to young women who want to reach your level of success?
EC: Believing in yourself is the first step in achieving your dreams. You need to have faith in yourself and your abilities and have an unwavering trust that no matter what comes your way, you will be able to handle it. You also need to take risks and make mistakes, as these are part of the learning process and will help you grow. Lastly, you need to take consistent action in order to reach your goals and stay motivated.
Q: Can you tell our audience one of your most memorable moments of your career?
EC: I had more than one! I moved to the U.S with major monthly debt to be paid. I bought a beautiful house in a Medieval Village (North part of Italy) when I was only twenty-three. This beautiful house is now a B&B and a local bistro where you can taste local regional food @canaleditenno. 
When I moved to the U.S., I had a difficult time in paying my mortgage. With a lot of effort, determination, and consistency I was able to pay my mortgage in full … this just happened few months ago! This is certainly an amazing achievement!

Another memorable moment was to see Kombucha Queen in the US Military grocery stores located in Europe.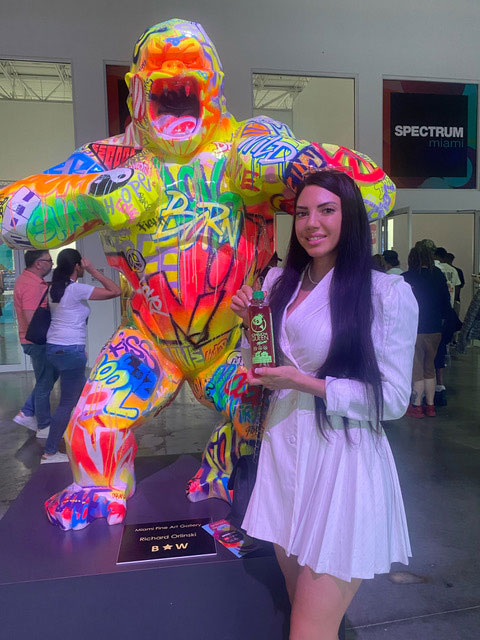 Q: At the start of your career, what do you wish you had known? 
EC: I don't have any regrets, and everything happens for a reason. 
Q: Which woman inspires you and why? 
EC: I'm proud of Giorgia Meloni for her ambition and tenacity. She is a strong leader and a notable example for women in politics. She is a role model for young women and a symbol of hope for a better future.
Q: What advice would you give to young women who want to pursue their dream and start a business? 
EC: Set realistic goals and expectations. Break down your goals into smaller, more achievable steps. Take time to research and understand the needs of your target audience. Reach out to potential customers and get feedback on your project or product. Be prepared to pivot and adapt to changing conditions. Monitor your progress, and be willing to make changes if necessary. Stay organized and make sure you have all the necessary resources you need in order to succeed. Network and build relationships with people in your industry. Attending conferences and industry events. Reach out to potential partners and investors. Keep learning, stay up to date with the latest trends and developments in your field. Stay motivated and never give up. Set yourself up for success by creating a positive environment and setting up systems that will help you reach your goals. Celebrate your successes, no matter how small.
Q: What advice would you give to young women who want to succeed in the workplace?
EC: I think that if you want to succeed in your workplace, first of all, you need to be very patient, you need to show your dedication, your passion, and your loyalty to the company. You need to believe in what you are doing, you need to believe in the mission of the company. You need to think like a little entrepreneur, like a little bit more than a regular employee. Try to think outside the box and start to have a full picture and share your thoughts with your superiors. It's important to show them that you are a special useful resource, that you have skills that are important for the growth of the company.
Q: After high school, where did you feel your career path would take you?  
EC: I never had a precise idea but I have always wanted to become a powerful woman. Since my childhood, I have always been fascinated with real estate. That's why I bought my first property incredibly young and I'm still growing with my portfolio as well. I think it's very important to diversify your source of income.
Five Things About Erica Chemolli

1. What's your favorite thing to do in your free time?
Go to the Gym - power walking on the ocean with headphones and music on - painting - trying new restaurants.
2. What's your favorite international food? 
I love eggplant alla parmigiana! Or o toro tuna! 
3. What's your favorite quote or saying? 
Imagination is more important than knowledge "Albert Einstein " 
4. What's your signature drink?
I like red wine a lot! I have studied sommelier - I'm in love with full body wine like Cabernet Sauvignon from Napa Valley. 
5. What would you sing at Karaoke night? 
Italian songs! Grande Grande "Mina "or Minuetto "Mia Martini"