An Exclusive Interview With Casi Stewart, Founder of Kismet, Specializing in In-Home Personal Shopping & Styling For People of All Ages.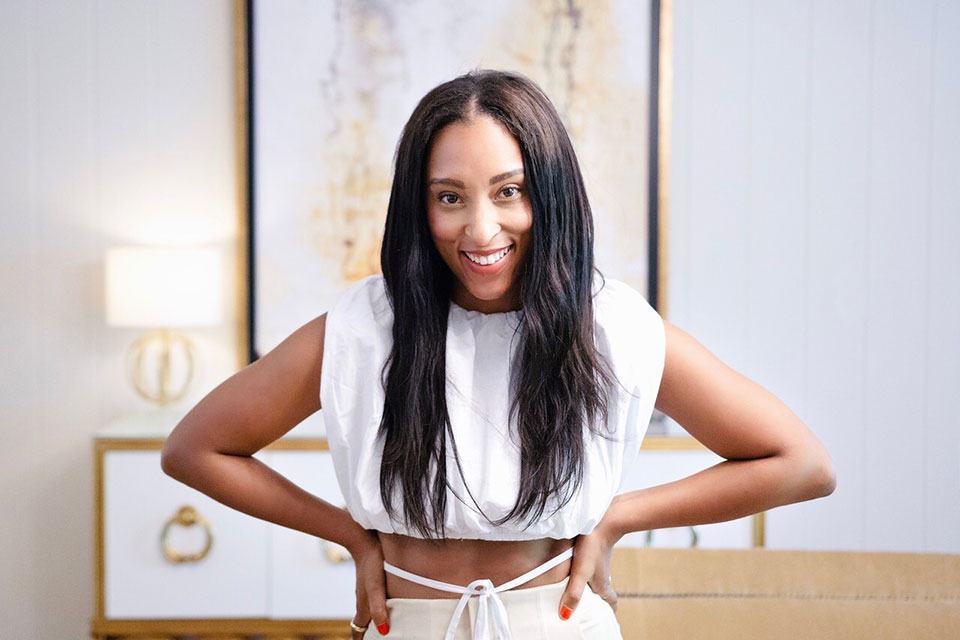 Q: What inspired you to start Kismet? 
CS: Fashion has always been a big part of my life. As a child, I loved playing dress up and as I got older, I found myself helping friends and family members with their style before a night out or big event. Style is so much more than clothes to me - helping people feel more confident in the way they present themselves to the world fulfilled me in a way other jobs I had did not. Styling started off as a side gig but after 10 years of working in corporate America, I decided to take the risk and jump into styling full time. I didn't want to look back and regret not doing something that I was clearly meant to do. 
Q: What is your personal styling philosophy?
CS: I take myself completely out of the equation when styling a client. It isn't about me. I'm there to guide and share my expertise, but my personal style and preferences aren't what creates a successful shopping appointment. My job is to put my clients in clothes that make them look and feel good. When curating their pieces, I see the clothes through their eyes and figure out how each piece fits into the client's existing wardrobe and lifestyle. My goal isn't to turn them into anyone else, it's to help them get to the best version of themselves. 
Q: You began the company during the pandemic - how was that experience and what did you learn by starting a company at that time?
CS: It was a wild ride. I was very unhappy in my job at the time, and I figured that it would be as much of a risk to stay in that position as it would be to start my own business. When I committed to quitting my job and starting Kismet, I was terrified but so excited. I put everything into building the business and had genuinely never worked so hard in my life. 
I learned that nothing goes according to plan, I learned that you have to be malleable, and pivot and I learned that I was capable of wearing so many more hats than I thought I was.

Q: You have recently moved from New York to Miami - how is the style different and what influence has each city had on you as a stylist?
CS: Some people call Miami the 6th borough but the style in each place is very different. Walking around New York can feel like a fashion show. You're on the runway, in the audience or both. I love that about New York. Trends start in New York and personal style is so prevalent. 
Miami doesn't take its style so seriously. People wear bright colors and definitely dress based on the climate. They have fun with what they wear. Dressing is a little sexier. 

I like to think that I can dress anyone in any style in any location. New York definitely pushed me to take risks as a stylist and encourage my clients to do so as well. Miami has challenged me to introduce more color into my approach. I tend to veer towards neutrals (especially as the foundation for a wardrobe) but color can be an amazing vehicle for self-expression. 

You styled Danielle from Summer House for her Bravo reunions - do you have a different approach for celebrities than you do for normal clients?

On the backend, no. I only work with people who I feel synergy with. Fashion should be fun, and I want my working environment to feel safe and comfortable. On the other hand, celebrities are playing by another set of rules when it comes to fashion. It's not about ease of wear or versatility when styling them. Oftentimes the point is to make a splash and a statement. It's about telling a story with one look. 

Q: What is your favorite place to shop?
CS: That's a hard question as I work with so many brands and retailers who I love. I'd have to say though that when shopping for myself, Moda Operandi is my favorite. They have a perfectly curated mix of emerging designers and big players in the fashion scene at a lot of different price points
Q: What's your business model? 
CS: I try to make things as easy as possible for my clients. There are three ways to work with me. 
The Kismet Cleanse - I go into a client's closet, edit their wardrobe, and give them guidance on how to wear the pieces they already own and evaluate where the gaps are. 

The Kismet Shop - I do all of my appointments in the client's home. Being in person is more fun and I find clients are the most comfortable in their own environments. On the day of an appointment, I show up with a rack of clothes - typically around 25 pieces - and we try them on, make outfits and decide what to keep. I handle all returns, taking what the client doesn't want with me. They get a whole new seasonal wardrobe without ever leaving their home. 
The Collective - this is a membership program for clients who want to work with me multiple times a year. They get discounted appointments, waived fees, access to private sales, online profiles with records of past purchases, style guide and more. 

Q: What is one word of advice you can offer to young women who want to reach your level of success?
CS: Timing is not everything. There were many times when I told myself it was too late to be a full time stylist, too late to start my business. Those were excuses and I'm so glad I moved past them. The road to success is not linear. I worked in tech, wholesale fashion and influencer marketing before I worked as a stylist full time. One might look at those roles as wasted time, but they have taught me invaluable skills that I needed in order to successfully start and run my business. Take in every professional experience, whether good or bad, because it will help you in some way in the end. 
Q: Can you tell our audience one of your most memorable moments in your career?
CS: A year ago, a year into my business I decided to launch The Collective, my membership program for clients who want to work with me multiple times a year. Before that, I was focusing on one appointment at a time and not on how I could cultivate a loyal client base while also making their lives easier. I decided to launch the program and spent weeks with my head down, working on the offering itself, the social media being posted to market the program and more. The night before the launch, I worked until 3 am. I had no idea what the launch date would look like, I was going to be happy if even one person signed up. The response I got was overwhelming. I had much more than one person sign up. Many of my previous clients signed up and even a few people who had never worked with me before. I felt like my hard work had paid off and I felt validated that I could make it in this business.
Q: At the start of your career, what do you wish you had known? 
CS: Not to take things so personally. This is something I'm still working on. I'm a very sensitive person by nature and it's a quality I'm proud of. I also think it makes me a great stylist. Compassion and empathy are so important when working with a client who may have insecurities or be afraid of trying something new. On the other hand, when you own a business. Things are going to go wrong. You might get a rude email; you might make a mistake and get down on yourself. You have to learn how to remove yourself from some situations as hard as it can be. 
Q: What advice would you give to young women who want to pursue their dream and start a business? 
CS: Just do it. I know it seems so daunting and you don't know where to start but just do it. Start small. Literally google "how to start a business." There are so many resources out there. Take it one step at a time. Make sure that you are 100% passionate about your business because there are going to be times when the luster is gone, and you feel like giving up. At the end of the day, work is work, even if you love doing what you do. 
Q: Can you tell us how you manage your work life balance?
CS: It's not always so balanced. Owning your own business is a blessing and a curse when it comes to the amount of time you put into the business. While I can choose to take a day off on a random Tuesday, I more often than not am working into the night trying to make sure that everything I need to get done, gets done. If I catch myself getting into a habit of late nights, little sleep and not spending enough time with loved ones, I take a step back and reevaluate my priorities. Your professional and personal priorities have to be equal in order to live a healthy balance. 
Eleven Things About Casi Stewart

1. What's your favorite family tradition? 
Martha's Vineyard every summer
2. What was the last book you really got into? 
The Seven Husbands of Evelyn Hugo
3. What's your favorite app on your phone? 
Etsy, I love to dig and find hidden gems
4. What TV shows did you watch when you were a kid? 
I loved Nickelodeon - Are you Afraid of the Dark, Doug, Rugrats, the list goes on 
5. If you unexpectedly won $10,000, what would you spend it on? 
A trip! I'm dying to go to the South of France
6. Are you a morning person or a night owl? 
Night owl 100%
7. Do you read reviews, or just go with your gut? 
Always read reviews. Whether they're for food, clothes, books, or shows!
8. What's your signature drink? 
Mezcal soda with a splash of grapefruit and spicy rim
9. Which of the five senses would you say is your strongest? 
Sight
10. What would your perfect Saturday be like? 
Farmers market, cook lunch at home with farmers market finds, eat outside, hang with my fiancé and dogs for the afternoon. Dinner and drinks at night. 
11. What was your favorite subject in school? 
English