Her Mission is Simple: To Support You in Reaching a State of Ease Within Your Own Skin Meet Natalia Morrison, Owner of Holistic Primary Healthcare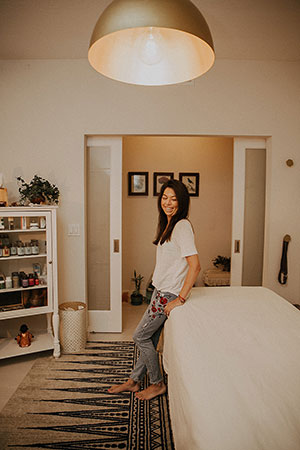 Q: For those in our audience not familiar with Holistic Primary Healthcare can you share with us the programs and services you have available?
NM: Yes! The beauty of Holistic Healthcare is an integrative approach to help people through their own unique healing journey. Whether they are dealing with auto-immune symptoms, chronic pain, anxiety, or even learning to eat in an optimal way for your unique body-type. Your body's needs and quirks are unique to you, and they will be different to mine and him and her and them.
I create tailored programs, based on modern and classical medicine. The programs address physical disorders, bring the patient back into emotional balance and help them regain mental clarity and focus.

Q: Why did you choose Acupuncture and Traditional Eastern Medicine as a career path?
NM: I chose to go into Holistic and Integrative healthcare because I love science and medicine. And I also wanted to help people feel better from the inside out. To provide a multi-level approach to wellness, where people feel heard and understood. 
Acupuncture, like cupping, herbal remedies, nutrition, and corrective exercises are different therapies I utilize to help my patients regain their health and wellbeing. These are all gentle, effective and science based therapies, without harsh or negative side-effects.

Q: What's your favorite part of being in practice?
NM: It has to be seeing them get better. It usually starts with their Miami road rage decreasing. But in all seriousness, it is the most rewarding and soul inspiring experience … to see how my patients feel better physically, mentally, and emotionally. 
I work with people that have very complex and most of the time long term health issues. Chronic pain and fatigue, anxiety, auto-immune, TMJ, neck disorders. What most people don't see and understand is the mental and emotional struggle that also comes along with these complex conditions. And this is where Holistic Healthcare wins. It helps balance not only the physical, but also the mind and emotions.


Q: Can athletes benefit from acupuncture?
NM: 100% Acupuncture helps optimize your body. Speeds up muscle recovery and helps the muscles gain strength and flexibility quicker. 
Q: After high school, where did you feel your career path would take you?  
NM: I knew I loved helping people, but it was challenging to find a career path I was passionate about. I dabbled in sociology, physiology, and a few others, until I found Acupuncture and Eastern Medicine.
Q: If we interviewed all your clients … what is "one" common word that comes up when they describe working with you?  
NM: Gosh, I've heard so many throughout my career. I think it would be "knowledgeable "… and "ease".
Q: Can you tell us how you manage your work life balance?
NM: I can get lost in my work because I love what I do. I have to be extremely strict with my time management so I'm completely dependent on my calendar. Meditating and exercise help me stay focused, so whether I'm working or enjoying my personal life I am 100% present.
Q: What has been your most satisfying moment in business?
NM: Every single time a patient gets better. There isn't a single one that is better than another. Each patient comes in with their own unique struggles and issues. And although I've been in private practice for close to 10 years, there is nothing more satisfying that seeing my patients get better. 
Q: What are some of your favorite interests and hobbies that you enjoy?
NM: I love to read about philosophy, psychology, neuroscience, and ancient classics. I also enjoy baking and finding healthy, sugar free and gluten free recipes to try. I make a yummy avocado chocolate mousse. And meditation of course, which I practice daily. 
Q: What advice would you give to young women who want to purse their dream and start a business? 
NM: Follow your gut. Dare to be different and try something new. If it inspires you and excites you, it puts a smile on your face when you think about it … go for it, regardless of what others say. After all, this is your life. And we only have one to live and enjoy fully. 
Five Things About Natalia Morrison
1. If you could talk to one famous person past or present, who would it be and why? 
Pythagorus! He was into medicine, mathematics, music. I would love to spend an afternoon with him.
2. What were you like as a student? 
I love learning, it was easy for me. And I have good recall memory, so I was never the type to study for hours. What I read, I understood, and I retained.
3. If you were a superhero, what would your special powers be?
Efficiency. I'm all about accomplishing things in an efficient and effective manner.
4. What app can't you live without?
Calendar!
5. Do you have any hobbies?
Many! Top 2 are baking and painting.