Her Approach to Real Estate is Focused on Getting to Know Her Clients & Guiding Them Through The Process From The Beginning to The End. Meet Principal Broker of ICONIC Miami Realty, Belmis Montesino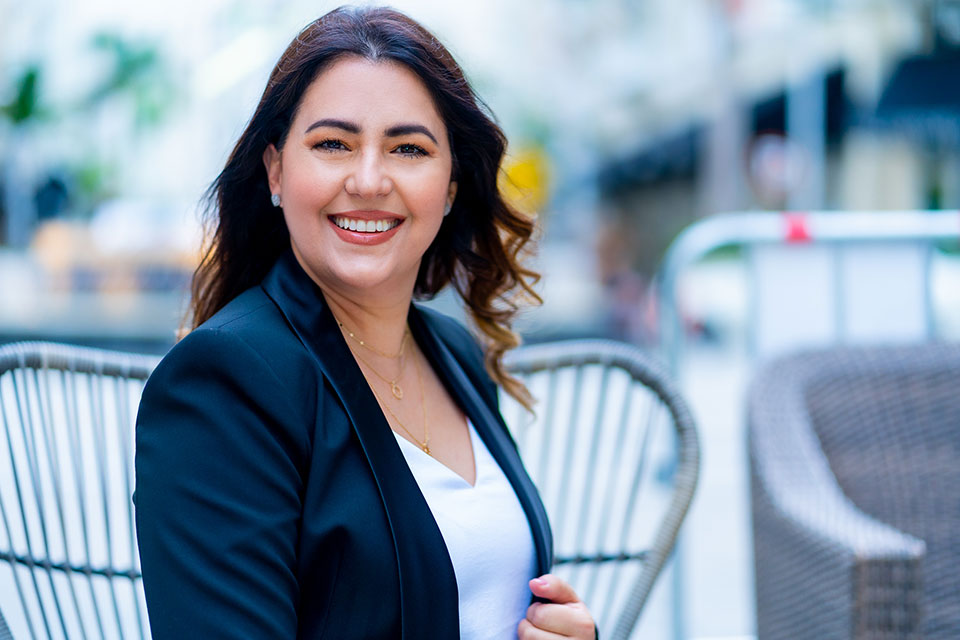 Belmis has been involved in the real estate and mortgage industries for more than twelve years. She started as a Private Banker, then a Bank Manager and soon after a Mortgage Broker. She even had a radio show teaching the do's and don'ts(s) of finance. Her strong background in Banking and Financial Services quickly made her show a success. Belmis is currently the Principal Broker of ICONIC Miami Realty, specializing in Luxury Real Estate. She loves to help her clients achieve their goals. Her exemplary reputation, her insistence on providing great service and always looking after her clients', as well as her overall tenacity, make her an asset when renting, buying, or selling Real Estate.
Q: What was your first job? And how did it shape or impact you?
BM: My first job was as a Winn Dixie cashier, I was 18 years old and I had just emigrated from Cuba, my English was limited … it was scary but by sheer determination I succeeded. This job provided me the customer service oriented experience that it has always been the cornerstone my career. 
Q: Tell us what you did prior to your current position as Primary Broker of Iconic Miami Realty?
BM: I was the Primary Broker and Marketing Director for Palmcorp Development Group, a local developer of semi custom luxury homes. I was involved in the development process, from planning, to sales, working close with the designers, architects, and construction teams, as well as the marketing and pricing strategies to sell the new homes we were building. Our homes were priced from $300,000 to $5,000,000.00. My little sister introduced me to Real Estate 10 years ago and that it is all I 've been doing ever since. I leaned from the best! Before Real Estate I was the Secondary Marketing Manager for a Mortgage Lender where I was involved in the home buying process indirectly.
Q: Can you tell us about the radio show you had?
BM: I noticed that there was a need to inform and teach the Hispanic community how the homeownership process worked. What was needed and the steps to get there. My purpose and mission was to inform the community so that they were able to attain the American Dream knowing what to expect and giving them all the tools to succeed. I love helping people realize their dreams. 
Q: Can you share with our audience what Buyers & Sellers can expect when they work with you?
BM: Trustworthy and reliable one on one service. They will receive truthful advice that focus on their needs, where they (clients) always come first. My philosophy, and what I teach my team is to abide by "The Golden Rule: Treat others how you would like to be treated." I strive to create life-long relationships with my clients not just one transaction. I have learned that when you put the necessities of others first, even if it may seem like you are losing a little now, you earn a friend and loyal client for life. 
Q: What type of properties do you specialize in? 
BM: I specialize in luxury homes and new construction/developments, however we work with FHA/VA Buyers, we are NACA approved and we work with investors, seasoned and new investors, guiding them from the property market analysis to the management of their portfolio. I also created our Public Servants and heroes' program; where we help our clients that are active military personal, Veterans, First Responders, Doctors, Health Care workers and Police Officers and Frontline Workers with closing cost assistance. Is our way to say thank you!
Q: If we interviewed all your past clients … what is "one" common word that comes up when they describe working with you?  
BM: Caring & Trustworthy
Q: Tell us how you manage your work life balance?
BM: Sometimes this is challenging. I have the company's day -to-day operation to deal with, our agents, which I coach and for whom I'm always available, our clients which I strive to give them the utmost attention and concierge service. Lastly, my reason to work hard and succeed is my family. I'm a mom of 3 teenagers, my oldest is already in university, a junior pre-med student, and I have two kids in High School. Although my husband is amazing and is there to help me every step of the way, there are days that things get a little hectic. I had to learn how to give myself some Me time each day, to separate time for my favorite thing to do (Reading) to unwind and get back to a healthy emotional and physical happy place. 
Q: What's one lesson you've learned in your career that you can share with our audience?
BM: I've learned that there is more that pulls us together than what separates us. I love that in my work I have the privilege to serve people from all walks of life and is beautiful to learn from other cultures, countries, and way of life. I've also learned that everything has a solution, there have been days where everything seems to be falling apart but throughout my years in this business I know that everything falls into place on time. The key is to always respond to your clients, even if you don't have all the answers, I have learned that when you are keeping your clients apprised every step of the way, their confidence is great and everything flaws better. 
Q: Which woman inspires you and why? 
BM: Lisa Nichols and Marie Forleo, they are inspiring and amazing women that have learned and now teach other how to overcome obstacles and make something big out of nothing.
Q: What are some of the challenges you feel women face today?
BM: Sometimes I feel guilty when my house is not organized, my kids are eating a later than usual or I must cancel a dinner date with my husband because a client meeting ran late. We are expected to have everything in order, everything planned, but if we don't have a support system at home 
It becomes exceedingly difficult to attain a balance. We tent to take care of everyone before us and forget that we need our time to be healthy and function better. Another challenge is that in the business world women tent to be underestimated (this can really work to our advantage).
Five Things About Belmis Montesino

1. What celebrity would you like to meet at Starbucks for a cup of coffee?
Denzel Washington
2. Who is your favorite author?  
Wow this is hard, I love, Love, Love reading! I have so many: Besides the classics: Nathaniel Hawthorne, Alexandre Dumas, Julio Verne, Agatha Christie, Jane Austin, Mark Twain, Sir Arthur Conan Doyle. I also love books that help us grow. "Napoleon Hills, Marie Forleo,, Spencer Johnson (Who moved my Cheese is one of my favorite books of all times) However to unwind I love to read historical romantic novels (this is a little secret) my favorite authors in this genre are Christi Caldwell and Johanna Lindsey. 
3. If you could choose to do anything for a day, what would it be?
Read with a good cup of tea or coffee. 
4. What app can't you live without?
Kindle app, Google maps and Instacart
5. What motivates you to work hard?
My kids, I want them to have a great life, I want them to be passionate about what they decide to study and to have financial freedom. I want my son to learn how to be a gentleman and my daughters to know that everything is possible that they can make their own way and have success if they work hard and out their minds to it.