Spiritual Teacher, Life Coach, Energy Healer & Author A Conversation with Alessandrina Dorer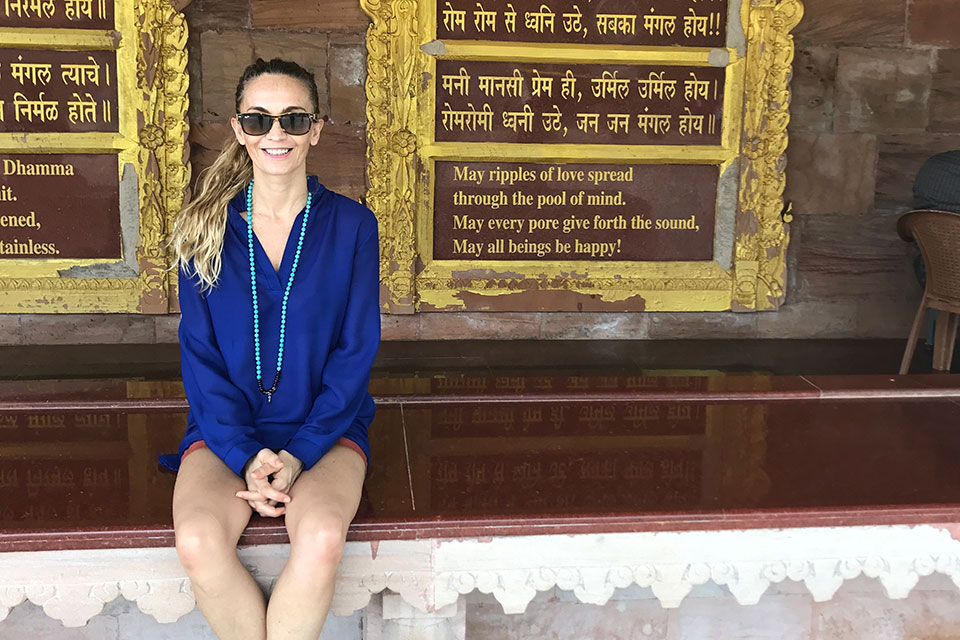 Alessandrina grew up in Paris and London and got an MBA at highly esteemed Paris IX Dauphine University. She then worked in international finance for Citicorp, Visa International, and American Express. During this time, she began to practice different yogic meditation techniques like psychic sleep (yoga nidra). Meditation, Yoga, and spiritual practices came easily to her. She was energetically and emotionally sensitive, empathetic, and capable of easily understanding complex spiritual topics and personal development. 
Q: Tell us what is was like growing up in Paris and London?
AD: Growing up in Paris and London was fun, exciting, and inspiring. I enjoyed the Art, the foods, and also just exploring both cities. I loved being in the energy of life, love, culture, diversity, and friendship. I was blessed to meet many people of various cultures and parts of the world, which enriched my understanding of the value of being open-minded to all, tolerant, and appreciating what each person and part of the world has to offer us. I don't resonate with the idea of nationalism or being the citizen of one country or another. I feel myself to be a citizen of the world, and I feel that being exposed to so many cultures earlier on in life helped me to see beyond the boundaries of countries or nations, allowing me to experience more of life more freely.
Q: Can you share with us some of our past career positions you held and why you decided to become a spiritual advisor?
AD: After completing the equivalent of an MBA in International Finances and Strategic Marketing at Paris IX, Dauphine University, I worked in Corporate Audit, first for Citicorp in the EMEA region and then for American Express in the LAC region. I elected these careers because of the traveling opportunities they offered. After 6 short years in Corporate Audit, which culminated with a position as Director of Internal Audit for the LAC region at American Express, I realized that this career path did not fulfill my deepest intentions. I spent the next 20 years, up to today, exploring spiritual and healing systems and approaches and after grounding these understandings and evolutionary shifts in my own system, I started helping others do the same. I didn't necessarily decide to become a spiritual advisor as much as it happened, quite naturally, because of all of my life choices and personal exploration of meditation, consciousness, spirituality, and healing.  
Today, I choose to be a spiritual advisor to be people because I feel that the sums of my experiences, experimentation, and the wisdom I have developed over the years can be of value to others and that they can benefit from what I have learnt to heal, grow, and transcend pain and suffering.

Q: As a life coach, are there specific areas you focus on?
AD: I don't necessarily specialize in any areas in particular, and I tend to attract clients looking for a relationship or soulmate, people who want to learn to love and accept themselves more, and people interested in understanding how to apply the law of attraction in their lives in a way that brings quick and positive transformation in their lives. I look at the clients that I receive as a reflection of my own karmic process and with the understanding that the people I receive are people I can serve best and that they are guided to me as a result of our energetic resonance and the subconscious understanding that I can help them.
Q: What is your coaching philosophy for success?
AD: It's very simple in some ways and also not in the sense that it pulls from the 20 years of explorations into a number of methodologies and practices that I've done my very best to consciously assess, understand, test for myself, and integrate so that I could teach them in a grounded and simple way. The simple part of it is that I don't have a preset agenda or idea of what someone's path to their success is going to look like. I listen to what my clients tell me, what they say they want, and then I help them extract what they truly want from what they share with me. My intention is to hold the space of consciousness for my clients, to be as empty a vessel as I can be so that I can be of most help, and to understand where my clients are (A) and where they want to get (B) and to gracefully take them from A to B with the most joy, inner-peace, love, happiness, abundance, and success as is feasible while minimizing any pain or discomfort that comes up as it inevitably does in any process of change and transformation.  
Q: After you completed your education, where did you feel your career path would take you? 
AD: On an adventure across the world, which it has… and in many ways, it took me way beyond what I could ever have imagined to be possible at the time.
Q: Can you tell us how you manage your work life balance?
AD: My work is an integral part of my life, and due to the spiritual nature of my work, I don't see them as separate. Confucius once said, "Choose a job you love, and you will never have to work a day in your life." I am blessed to feel this way. The boundaries are loose in regards to work-life. When I work with a client, I don't see my work as separate from the spiritual work I dedicate the rest of my personal life to. I see each person I facilitate as an extension, or reflection of me, mirroring back to me aspects of myself that I am continuously learning to refine, love, understand, and bring into balance and harmony. I also like to spend time in nature, meditating, conversing, and spending quality time with my husband, all of which I see as further fuel and enrichment for my spiritual evolution and the facilitation of my consciousness.
Q: What's one lesson you've learned in your career that you can share with our audience?
AD: To focus on loving and serving others as a service to Source so that the details of work and life don't get overly complicated and things fall into place more easily and naturally because of that conscious choice.
Q: Can you tell our audience one of your most memorable moments in your career?
AD: Times where I have helped people who were contemplating ending their lives, and who through facilitation, love, and support were able to realize the value of their existence and to start redirecting these destructive thoughts and energies towards living a more balancing, loving, and peaceful life.
Q: Which woman inspires you and why? 
AD: Mother Teresa, for all of her love, selflessness, courage in the face of adversity and suffering, and her commitment to serving others and Source.  
Q: What advice would you give to young women who want to succeed in the workplace?
AD: To spend time meditating on what they truly want, why they want it, and from a grounded understanding of their intentions and reality to take the steps towards the success they define and choose for themselves. Also, to meditate deeply on the unlimited nature of reality so that they may realize that any obstacles or lack of confidence they may feel is only an illusion and that, with focus, intentionality, and perseverance, they can achieve anything they truly want in their heart.
Four Things About Alessandrina Dorer
1. If you could go back in time, what year would you travel to and why?
A time where great masters and mystics have lived, like the time of the Buddha or Christ, so that I could benefit from their energetic resonance and profound teachings to bring about loving, positive change into the world in the same way that they intended to.
2. What were you like as a student?
Studious, committed, inquisitive, and very motivated to learn and grow. 
3. Who would you want to play you in a movie of your life?
Charlize Theron
4. Do you have any hobbies?
Spending time in nature, Reading, exploring consciousness and spirituality, any sports and watching movies.